Trifluoromethanesulfonic Anhydride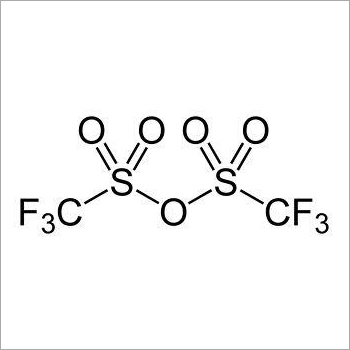 Trifluoromethanesulfonic Anhydride
Product Specifications
Room Temperature

‎82 C (180 F; 355 K)
Product Description
Triflic Anhydride
We are providing to the customers, highly effective stock of Triflic Anhydride.
Clients value these acids as the small group of super acids that is stronger in comparison to sulfuric acids. It is a special class compound that can be easily used for protonation reactions. Further, our entire range of Trifluoromethanesulfonic Anhydride CAS No. 358-23-6 is colorless and clear liquid that quickly fumes when comes in contact of moist air.

The Triflic Anhydride is formulated under the most suitable conditions with the use of optimum quality chemical ingredients in accordance to international standards of quality. Widely used as a chemical reagent in different chemical reactions, it is applicable in various chemical and pharmaceutical industries. Also, tested on set quality parameters, this Triflic Anhydride is offered at negotiable rates to the clients.


Features:
Appear like colorless transparent liquid having purity more than 99.0%
It is non-oxidizing chemical having excellent thermal stability
Stringently tested on several aspects of quality
It consists of boiling point from 81 degree to 83 degree Celsius
At room temperature, it has a density of 1.677 g. ml
Can be preserved for a long time
Free from adulteration and environment friendly
Precisely formulated by utilizing advanced chemical reactions
Well applauded for its accurate composition
Available in safe packaging options
Non toxic in nature
Having precise pH value and highly pure in nature
It is stored under the refrigeration temperature
It reacts violently in water and sensitive against moisture
Technical Specification:
Product Name:
Trifluoromethanesulfonic anhydride
Synonyms:
Methanesulfonic acid, trifluoro-,anhydride
Methanesulfonicacid
trifluoro-,anhydride;trifluoro-methanesulfonicacianhydride
TRIFLIC ANHYDRIDE;TRIFLUOROMETHANESULPHONIC ACID ANHYDRIDE
TRIFLUOROMETHANESULPHONIC ANHYDRIDE
TRIFLUOROMETHANESULFONIC ANHYDRIDE
TRIFLUOROMETHANESULFONYL ANHYDRIDE
CAS:
358-23-6
MF:
C2F6O5S2
MW:

282.14

EINECS:
206-616-8
M.P.
-80
B.P.
81-83 C(lit.)
density
1.677 g/mL at 25C(lit.)
vapor density
5.2 (vs air)
vapor pressure
8 mm Hg ( 20C)
refractive index
n20/D 1.321(lit.)
F.P.
-81C
storage temp.
Refrigerator
Water Solubility
reacts violently with water
Sensitive
Moisture Sensitive
Appearance:
Colorless transparent liquid
Purity:
more than 99.0%