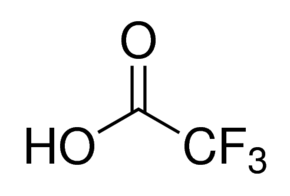 Trifluoro Actic Acid
Product Specifications
Room Temperature

15.4 °C (4.3 °F; 257.8 K)
Product Description
With sincere efforts, we are successfully engaged in offering excellent quality Trifluoroacetic Acid. Having pungent odor and colorless appearance, this acid is used as a reagent in organic synthesis. The offered acid is prepared with utmost care with appropriate composition of and electrofluorination of acetyl chloride. Owing to its strong acidity, is is used in synthesis of peptide. Also, the provided Trifluoroacetic Acid is corrosive and is utilized in several industrial processes.
CAS No. 76-05-1
Key points:
Known for volatility and excellent solubility in organic solvents
Accurate formulation
Free from impurities
Longer shelf life

With chemical formula CF3CO2H, Trifluoroacetic Acid (TFA) is an organofluorine compound. Stronger in acidity, it is a colorless liquid with pungent odor similar to vinegar. It is ideal for acid catalyzed activities. Denser than water and soluble in water, Trifluoroacetic Acid is corrosive to eyes, skin and mucous membranes. It is used widely as a solvent and to prepare other chemicals. It shows a mix of convenient properties: strength as an acid, volatility & solubility in organic solvents. As a result, it is a chemical agent used in organic synthesis.

Key Aspects:

Used in organic chemistry for several purposes.
Very strong acetic acid halogenated derivative.
Good solvent for many organic & inorganic materials.